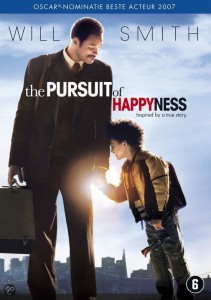 Van de week heb ik deze geweldige film gezien: The Pursuit of Happyness met Will Smith.
The Pursuit of Happyness is het inspirerende, waargebeurde verhaal over het leven van Chris Gardner.
Door zijn buitengewone geloof in zichzelf, de liefde en het vertrouwen van zijn zoontje, lukt het Chris uiteindelijk om alle obstakels uit de weg te ruimen en uit te groeien tot een Wall Street legend.
Inspirerende film over doorzettingsvermogen
Belangrijke woorden:
Don't ever let somebody tell you, you can't do something. Not even me… Alright? You got a dream, you gotta protect it. People can't do something themselves, they wanna tell you that you can't do it. You want something? Go get it. Period.
Waar een wil is, is een weg! Echt een aanrader!
Dit verhaal is gebaseerd op Chris Gardner. Ik heb een interessant interview met hem over de film gevonden die ik graag met je wil delen.
Wat vindt je van deze film? Ik hoor het graag van je.